In response to the coronavirus pandemic, WiSo developed WiSo-Virtuell in the summer semester 2020 in close collaboration with the Center for Continuing Education in University-Level Teaching (FBZHL). For the summer semester 2021 and the concept of hybrid teaching, WiSo-Virtuell will now become WiSo-Virtuellplus. This concept ensures that students can still study at WiSo during the new normal of the coronavirus pandemic, even if this means leaving familiar paths. Our digital strategy has three key objectives: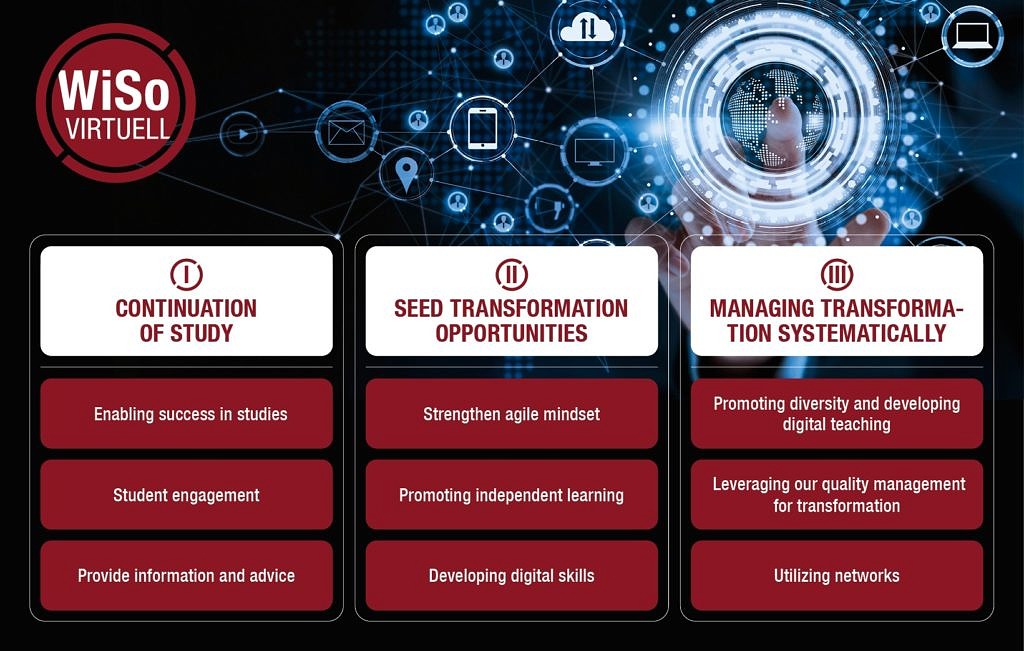 Objective 1: Continuation of study
Even in times of crisis, we will ensure that students can still study, and will continue to offer the related tasks and activities.
Enabling success in studies
All Bachelor's and Master's degree programmes at WiSo will be tailored to take the new coronavirus situation into account. In doing so, we ensure that every degree programme can be studied digitally. In addition, we work according to a strict hygiene concept in order to be able to offer face-to-face courses. In this way, we enable students to have the greatest possible freedom with a hybrid teaching concept and to tailor their studies to their individual needs.
The coronavirus pandemic also affects student life and the opportunities for becoming involved in a student initiative. A number of students are still volunteering even in these challenging times. As we saw in the summer semester 2020 and the winter semester 2020/2021, several activities were launched online. WiSo supports students with organising virtual activities.
Provide information and advice
The service units at WiSo are currently also offering online assistance or face-to-face sessions to help students with issues such as organising a stay abroad or preparing to start a career.
Objective 2: Seed transformation opportunities
The current crisis is not only a threat, but also an opportunity to grow.
All members of WiSo including students, staff, and professors can respond quickly and flexibly to new challenges. In doing so, we are promoting a mindset that is necessary to overcome an increasingly complex VUCA world charcterized by volatility, uncertainty, confusion and ambiguity in the economy and society.
Promoting independent learning
The new situation demands independent learning skills from students in a new way. WiSo is helping its students to grow in this respect. In this process, we are developing a mindset that is necessary in an age where knowledge becomes more rapidly obsolete than ever before and creating an open culture of innovation and opportunity.
Developing digital skills
WiSo is making the most of the call for rapid digitalization to further develop the digital skills of students and teachers. Independent learning opportunities are also planned for students.
Objective 3: Managing transformation systematically
We are not leaving digital transformation to chance, rather ensuring systematic progress.
Promoting diversity in digital teaching
One-size-fits-all might work with stretch jeans. However, university teaching requires individual e-learning concepts. Online teaching based on the same tired concepts is boring for students. This is why we are promoting the many opportunities and formats offered by e-learning. Before the coronavirus pandemic, we already had an extensive e-learning program which we can now build upon during the current situation. The further development of e-learning is supported by our teaching staff. As a Community of Practice, our teaching staff support each other. They are also supported by the Center for Continuing Education in University-Level Teaching (FBZHL) and the Innovation in Learning Institute (ILI). Developmental activities are coordinated by WiSo's e-learning coordinator (ELC).
Leveraging our quality management for transformation
We solve issues and problems with clear responsibilities. WiSo has operated a proven quality management system for many years. We are using these clearly defined responsibilities and processes in our quality management structures to assist us during this transformation in teaching, especially during the current crisis. Carefully evaluating teaching leads to improvements in teaching, whether in face-to-face sessions, online or in hybrid concepts.
We are utilizing our network of partners within FAU and beyond the University to assist us in implementing transformational processes.